Conference Rooms and Meeting Spaces
ExecuSpace tenants have access to our two large conference rooms, each capable of accommodating ten people comfortably around a large conference table. Both rooms have erasable white-boards for presentations, while one also has a 55 inch LED flat panel monitor for TV, video, and computer display use.
The large conference rooms share a collapsible wall which can be removed to create a very large meeting space. We have chairs and tables which can be configured for your needs. A small conference room, also featuring a whiteboard, is also available for informal meetings of two to five people.
ExecuSpace can also provide access to a boardroom for meetings of up to thirty people around a large table on the fourth floor of our building, as well as other spaces which can be reserved by agreement.
ExecuSpace Conference Rooms and Meetings Spaces are ideal for:
Meeting with clients in a formal setting.
Product introductions and announcements.
Seminars and educational forums.z
Public or private presentations.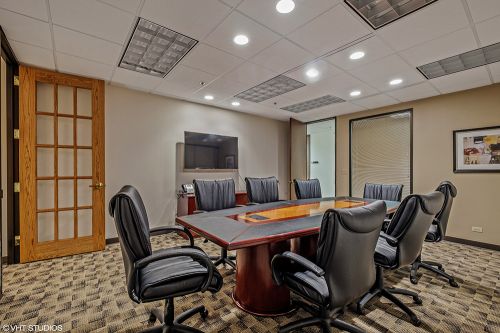 Whether you need a rental conference room for an hour or a week, or a special presentation facility with in-building catering for a special meeting, ExecuSpace can help make you shine.